Pakistan: Violence against women in the name of 'so-called' honour
Just Earth News | @justearthnews | 27 May 2022, 12:37 pm Print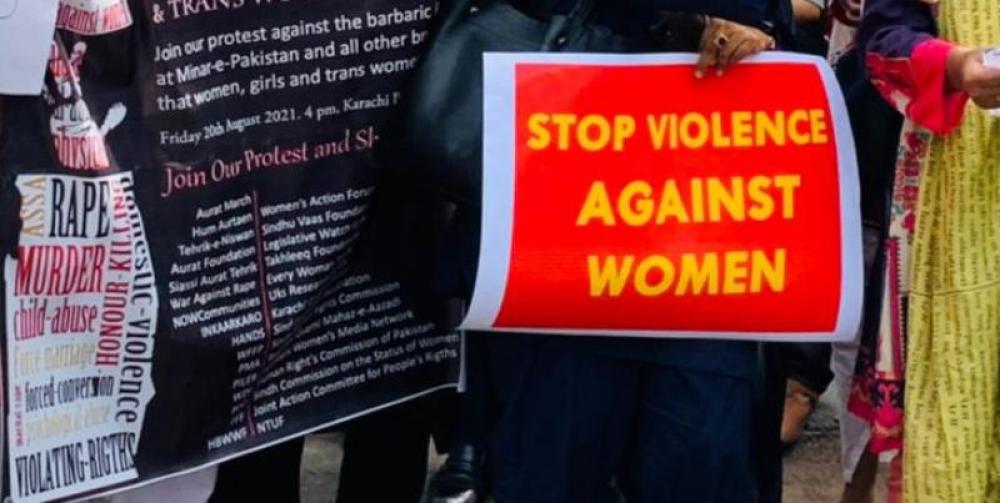 Pakistan Honour Killings
Representational image from Twitter/PRSF - Karachi (@PrsfK)
Earlier this month two Pakistani-origin Spanish sisters Arooj Abbas and Aneesa Abbas, were allegedly tortured and shot dead in Nathia village of Gujrat district in Pakistan's Punjab province for allegedly failing to get their respective husbands' visas to settle with them in Spain.
Both the sisters, who are Spanish nationals, were married to their cousins in Pakistan more than a year ago, and were not happy with their marriages, according to policeAround the same time another Pakistani-American woman, Sadia, who worked as a teacher was slain along with her mother, Inayat Bibi, and her four-year-old daughter Khadija by Sadia's estranged husband in Texas.
Sadia's husband, also a Pakistani-American, barged into her Texas apartment. Sadia had filed for divorce from her husband because he was abusive towards her and their daughter.
Horrifying stories and tragic deaths of abused Pakistani women living in the US, Spain or any other western country expose the masculinity crisis that confronts Pakistani men as they suddenly discover that they can no longer exert complete control over the women in their families.
Cases of dishonour killing are frighteningly regular in Pakistan, especially in areas close to the tribal regions in the north and west.
More than 470 cases of "honour" killing were reported in Pakistan in 2021, according to the Human Rights Commission of Pakistan (HRCP).
It must be noted that regarding the specific number of honour killings committed annually in Pakistan there is ambiguity as the authorities are misled by the family members who describe such deaths as suicide or natural causes; so the actual figure may well be much higher.
According to another estimate by USA Today, about 1,000 Pakistani women are killed in "honour killings" by close relatives each year.
As hundreds of women are murdered by family members in Pakistan each year in so-called "honour" killings for violating conservative norms governing women's relationships, despite 2016 legislation ending the loopholes in the law that allowed culprits to walk free in the country's deeply patriarchal society.
In 2016, the murder of Qandeel Baloch, known as "Pakistan's Kim Kardashian", by her brother Waseem Azeem sparked national outrage and demands for changes to the law.
Azeem strangled her in her home in the in Punjab province after she shared photos on Facebook of herself with a Muslim cleric.
Azeem was sentenced to life imprisonment but was acquitted in February this year after his parents sought his release. His lawyers used what is known as the Qisas and Diyat law to circumvent the new legislation.
Islamic law in Pakistan allows a murder victim's family to pardon people convicted of killings in some circumstances.
Previous cases have had similarly concerning outcomes. On February 15, 2019 Sana Cheema's father, brother and uncle were acquitted by a Pakistani court. A district court judge acquitted the accused by declaring that there was a lack of "certain evidence".
Cheema, an Italian citizen, died in 2018 while visiting her family. It was reported in the Pakistani media that the police had alleged that the suspects had confessed to, and then retracted, an honour killing.
A report on forced marriage, published by the UK government in 2020, found almost 40 percent of cases involved British citizens being taken to Pakistan to marry against their wishes.
In 2016, Samia Shahid, a British Pakistani beautician from Bradford in the north of England, was raped and killed when she returned to Jhelum district after marrying a man from outside the family.
She had previously left her first husband, a first cousin from their village in Pakistan. Her ex-husband and father were arrested for her murder. Six years later, the case is ongoing.
Pakistan is the sixth-most populated country in the world. But it's one of the world's worst performers when it comes to gender parity, according to the World Economic Forum's 2020 gender gap report.
Pakistani women living in rural areas are particularly vulnerable to violence because of their relatively weaker social position and lack of awareness about their legal rights.
Although legally proscribed, socio-cultural factors and gender role expectations have given legitimacy to a type of premeditated honour killing, also called 'Karo-Kari' which originated in rural and tribal areas of Sindh, Pakistan.
The homicidal acts are primarily committed against women who are thought to have brought dishonour to their family by engaging in illicit premarital or extra-marital relations. In order to restore this honour, a male family member must kill the female in question.
In addition to its persistence in areas of Pakistan, there is evidence that karokari may be increasing in incidence in other parts of the world in association with migration. Other practices like Watta satta (exchange marriages), dowry and bride price contribute a great deal to women's disempowerment.
An increased demand for dowry may lead to the harassment of a woman by her in-laws. In extreme cases, the demand for desired dowry ends up bringing violent physical and psychological consequences for the woman.
In the name of honour killing, murder committed on the pretext of family honour, women in Pakistan continue to suffer in the hands of perpetrators legitimising their actions through a misplaced sense of justice.
In February this year, five people, three women and two men, were killed for honour in Balochistan province in a single day.
Although honour killings in Pakistan carry a life sentence, they remain common in Pakistan's remote tribal areas — and the majority are against women perceived to have brought shame on their families.
Existing laws addressing violence against women are either weak or inadequately implemented.
According to the Human Rights Commission of Pakistan (HRCP) "Antiquated — and lethal — notions that 'honour' resides in women's bodies and actions still prevail across Pakistan, and it will take far more than laws to effect a change when perpetrators of 'honour' crimes continue to act with impunity."
Recent statistics show that the problem persists. In 2021, 128 women were killed in Sindh province, in the name of honour, while in Pakistan's Punjab province, between July and December 2021, 90 women were killed, 2,439 were raped and 9,529 women were kidnapped. Nationwide, the numbers are likely much higher.
Research shows that honour killings are primarily perpetrated by family members and that as a result, people do not come forward to report incidents.
The lives of millions of Pakistani women are circumscribed by traditions, which enforce extreme seclusion and submission to men, many of whom impose their proprietorship over women with violence.
The mentality of the male leadership has taken an attitude of victim bashing.
In a 2020 interview, former prime minister Imran Khan criticised the fact that Pakistanis are increasingly adopting what he called the "immoral mannerisms" of the west, saying that they are "chipping away at our traditional familial values and norms".
In a 2021 interview, Khan said, "Men are not robots, ladies wearing small clothes impact them," thereby subscribing to a view long refuted by a significant body of research that shows that sexual violence is a consequence of perpetrators dehumanising female bodies.
Other leaders and ministers have often defended jirga-ordered 'honour killings' in their provinces as 'custom'.
Violence against women in Pakistani society is prevalent regardless of class, religion or rural-urban divide. Women are considered subordinates of men and their lives are dictated by patriarchal power (Aurat Foundation, 2011).
Sate indifference, discriminatory laws and the gender bias of much of the country's police force and judiciary have ensured virtual impunity for perpetrators of honour killings.
The situation faced by Pakistan's women is dire, and the country's minimal laws protecting women offer protection only on paper. It is well documented that VAW is widespread in Pakistani society, but its reporting is still hugely stigmatised and is considered disrespectful to the family of the victim.
The situation in Pakistan—where women are not considered as human beings in some regions, and where it can be dangerous being a woman—reveals that discrimination against women is not only a legal problem, but a societal problem, deeply entrenched in mindsets.