Rights
Human Rights/Free Speech/Media
Pakistan: Dir resident gets death, prison terms over blasphemy, other religious offences
Just Earth News | @justearthnews | 02 Dec 2022, 11:35 pm Print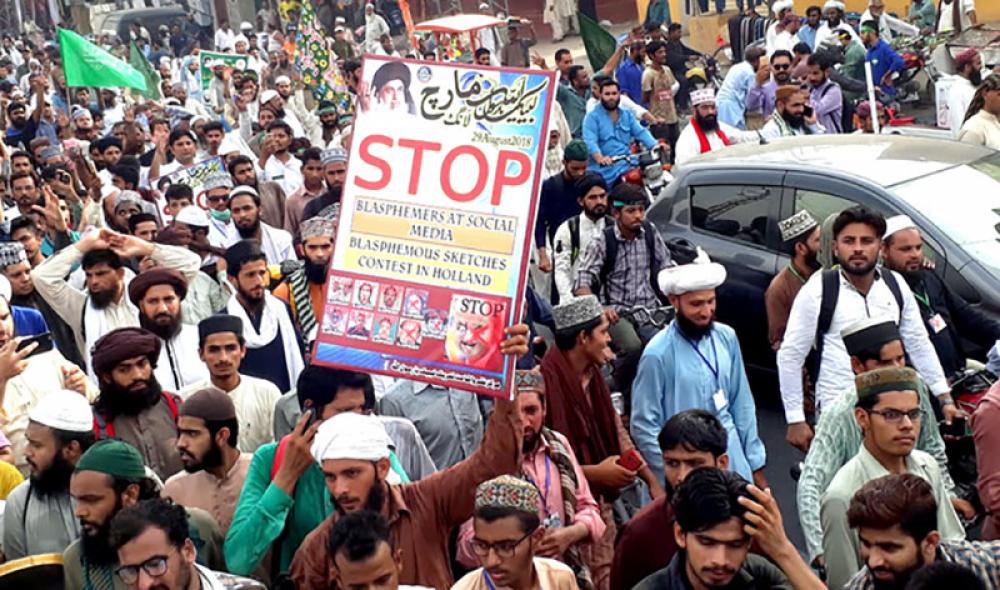 Pakistan Blasphemy
Image Credit: File image of a protest against blasphemy in Pakistan, photo by Tehreek-e-Labbaik via Wikimedia Commons
Peshawar: A Pakistani court has convicted a Lower Dir resident on the charges of committing blasphemy and other religious offences on social media and awarded death sentence, media reports said on Friday.
A total prison term of 21 years and a total fine of Rs 1.6 million were imposed on him.
It declared that all prosecution witnesses fully supported the prosecution's assertion leaving no doubt that the accused was the guilty person, Dawn News reported.
The court added that as the accused recorded his statement under Section 342 of the Code of Criminal Procedure, he was confronted with all evidence mentioned in the questionnaire, but he failed to prove any of them false.
It declared that the accused, a resident of Adenzai tehsil in Lower Dir district, failed to disprove that the mobile phone with a SIM card registered in his name was not recovered from him and that the phone carried several blasphemous content, which he shared in a WhatsApp group.
The FIR of the offences was registered by the FIA Counter-Terrorism Wing, Islamabad, police station on Aug 4, 2021, under the Pakistan Penal Code's sections 295-A (insulting religious beliefs), 295-C (use of derogatory remarks in respect of the Holy Prophet) and 298-A (derogatory remarks in respect of holy personages), the Prevention of Electronic Crimes Act's Section 20 (offence against dignity of a person) and the Anti-Terrorism Act's Section 7(1)(g).
The accused in the incident was arrested last year.