Armenia-Azerbaijan: UN calls for 'credible and durable' end to fighting in flashpoint region
Just Earth News | @justearthnews | 22 Sep 2023, 05:02 am Print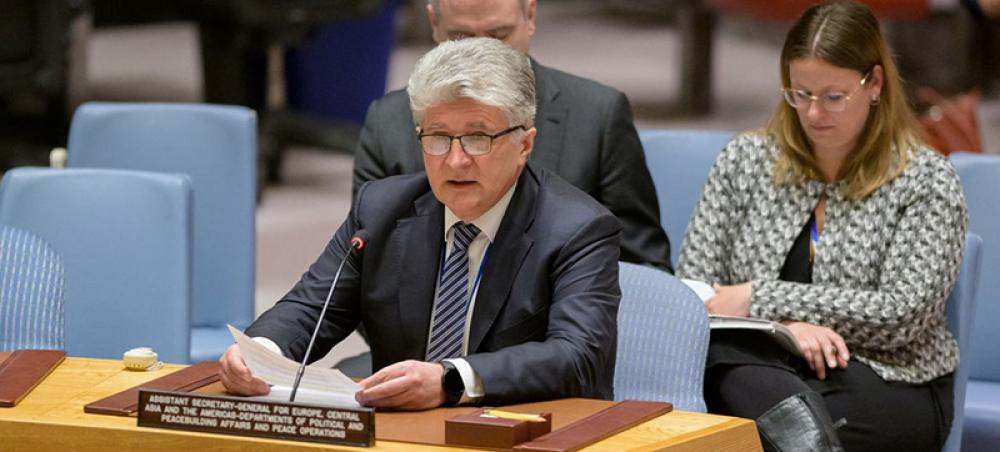 Armenia-Azerbaijan
Image: UN Photo/Manuel Elías
A senior UN official told the Security Council on Thursday that the wellbeing of civilians caught up in the long-running conflict between Armenia and Azerbaijan should be the "overriding priority" following renewed fighting.
Miroslav Jenča told ambassadors that Azerbaijan had announced, in their words, "local counter-terrorism activities in the Karabakh economic region" two days ago, in response to the tragic deaths of two civilians and four police officers in incidents that allegedly involved landmines placed by the Armenian military.
He noted that Azerbaijan had notified the Russian peacekeeping force in the region, of its activities in a bid to "prevent large scale provocations" by Armenian troops and "ensure their withdrawal and the restoration of the constitutional order" within internationally recognized Azerbaijani territory.
'Serious escalation'
Mr. Jenča lamented that following a "serious escalation in military operations" across the Line of Contact between the two forces, civilian casualties had been reported, as well as thousands evacuated within the flashpoint region.
He stressed that the UN has no observers in the region and was unable to verify the "various claims and allegations."
The UN has supported the full implementation of a 9 November 2020 Trilateral Statement by the leaders of Armenia, Azerbaijan and Russia, following the ceasefire of that year, together with efforts to reduce tensions and advance the normalization of relations between Baku and Yerevan.
Mr. Jenča told the Council that in light of the 2020 Statement, Secretary-General António Guterres urges all concerned to "strictly observe" the ceasefire and continue to abide by their obligations relating to international humanitarian and human rights law.
'Sharp exchanges'
He reminded ambassadors that in recent months the freedom of movement of local civilians and humanitarian access along the Lachin Corridor and Aghdam road, "have been major sources of tension and sharp exchanges".
"The Secretary-General remains deeply concerned about the impact of the escalation on the fragile humanitarian situation and calls on the parties to urgently facilitate unimpeded access" of relief to all civilians, Mr. Jenča added.
He said the uptick in violence in recent days should be viewed within a "broader pattern of ceasefire violations which have continued to persist."
'Positive step'
Assistant Secretary-General Jenča noted Wednesday's announcement of a cessation of hostilities, cautioning that the situation on the ground remains fluid.
"We also understand that, in a positive step, representatives of the local population and the Government of Azerbaijan met earlier today for an initial exchange."
He called for a "credible and durable" end to the fighting. "Any renewed escalation would lead to further loss of life and human suffering and further set back internationally supported peace efforts."
Protection of civilians including their basic human rights "must be the overriding priority."
The only sustainable way forward, he said, was through genuine dialogue between Azerbaijan and representatives of the region, "together with full engagement in the normalization process".