WHO warns rainy season now hampering Ebola response in West Africa
04 Jun 2015, 02:50 pm Print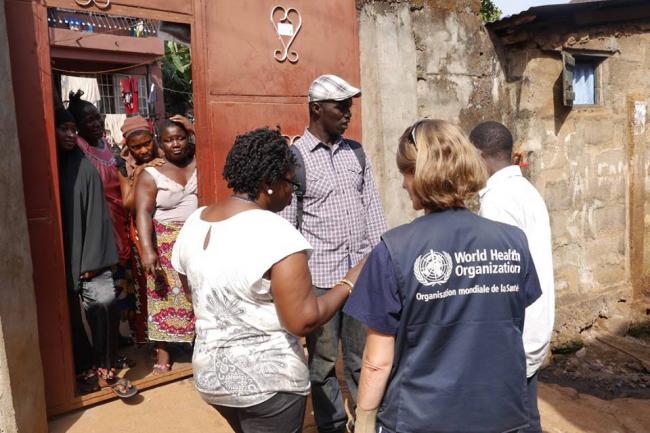 New York, Jun 4 (JEN): The United Nations World Health Organization (WHO) on Wednesday reported an increase in the intensity and geographic area of Ebola transmission in Guinea and Sierra Leone, warned that the onset of the rainy season "from now onwards" will make field operations more difficult and noted that community engagement remains a challenge in both countries.
Meanwhile, Peter Graaff, the Acting Special Representative and head of the UN Mission for Ebola Emergency Response (UNMEER), told the UN News Service that the rainy season "creates problems because it will bring other diseases like malaria that often shows similar symptoms to Ebola."

Graaff said the rainy season "makes things more complicated because for the time being, people showing those symptoms have to be dealt with as if they are potentially Ebola patients, therefore have to be tested."

As a consequence, he warned that the number of people to be tested for Ebola will go up "quite dramatically" over the next few weeks.

The latest update on Ebola noted that since 10 May, when a 10-month low of nine cases of Ebola were reported, both the intensity and geographical area of transmission have increased.

In the week ending 31 May, 25 cases were reported from four prefectures of Guinea and three districts of Sierra Leone, and several cases in both countries arose from unknown sources of infection in areas that have not reported confirmed cases for several weeks, indicating that chains of transmission continue to go undetected, according to WHO.

"Rigorous contact tracing, active case finding, and infection prevention and control must be maintained at current intensive levels in order to uncover and break every chain of transmission," it said.
It said, "However, the onset of the rainy season will make field operations more difficult from now onwards."

WHO also reported that response efforts have been complicated by active and passive resistance from communities in Guinea and also Sierra Leone.

"Community engagement has continued to be challenging in several chiefdoms in Kambia, with UNICEF reporting a large number of incidents of resistance to response measures in the district," according to the update.

And "community engagement has proved challenging in all 4 affected prefectures of Guinea, with several reported incidents of violence directed at field staff during the past week," it said.

Given the proximity to Guinea-Bissau of the recent cluster of cases in the north-west Guinean prefecture of Boke, two response teams from Guinea-Bissau have been deployed to the border with Guinea to assess several points of entry and sensitize the communities.

As of 31 May, there have been 27,181 Ebola cases, mostly in West Africa, with 11,162 deaths.

Photo: WHO/D. Licona