Environment/Science
Environment/Science
Bangladesh gears up to tackle Cyclone Mocha, 50,000 people evacuated to safe shelters
Just Earth News | @justearthnews | 13 May 2023, 07:07 am Print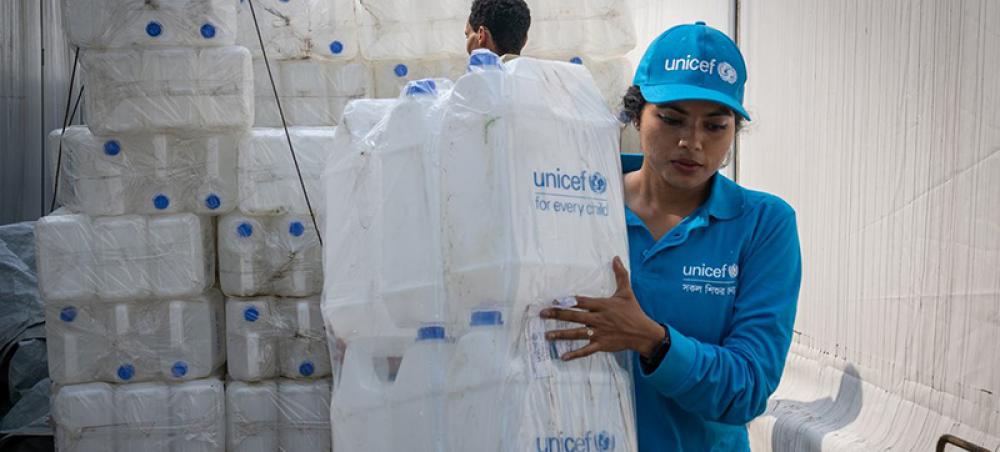 Cyclone Mocha
Image: © UNICEF/Rashad Wajahat Lateef/ © NOAA/NASA Satellite imagery of Cyclone Mocha on Friday.
Dhaka: Bangladesh, a nation that has faced the brunt of several cyclones in the past, has evacuated over 50,000 people to safe shelters as Cyclone Mocha has intensified into an extremely severe cyclonic storm over the east central Bay of Bengal.
The move has been taken as the maritime port of Cox's Bazar has been asked to hoist great danger signal no 10 lowering the previous great danger signal no 8, reports Dhaka Tribune.
According to reports, the evacuated people were shifted from Cox's Bazar's Nazirartek, Samitypara, Maheshkhali's Dhalghata, Sonadia, Ghoribhanga and Kutubjom, Teknaf, Baharchhara and St Martin's Island till 2.30pm on Saturday.
Additional District Administration of Cox's Bazar Bibhishan Kanti Das told Dhaka Tribune that the people have taken shelter in 576 cyclone centres from Saturday 8am to 2:30pm to be safe from the extremely severe cyclonic storm Mocha.
"We have opened the shelters since morning," he said
"The people of the coastal areas have started coming in. Many more people will also come hopefully. However, it is not possible to say exactly how many people will take refuge," said the official.
Some parts of Bangladesh have started experiencing rain since Friday due to the effect of the cyclone.
Samsul Alam, who sought refuge in the Cox's Bazar deputy commissioner's office, told Dhaka Tribune: "Our homes are on the seashore. They could be washed away at any time. To save our lives, we arrived here early. Only Allah knows the outcome of this cyclone. May he protect us."
Meanwhile, the administration has prepared over 1,000 shelters in the Chittagong district for the cyclone which is predicted to hit the country.
Bangladesh PM Sheikh Hasina said her government is ready to tackle the situation:
Bangladesh PM Sheikh Hasina said her government has taken all preparations to tackle the cyclone Mocha.
"Cyclone Mocha is coming. We've kept ready the cyclone centres and taken all types of preparations to tackle it," she was quoted as saying by Dhaka Tribune while addressing the inaugural ceremony of the 60th convention of the Institution of Engineers, Bangladesh (IEB) as chief guest on IEB premises here.
UN working to handle crisis:
UN agencies spent Friday buckling down with communities across Bangladesh and Myanmar, bracing for Cyclone Mocha, which is expected to hit the region by the weekend.
The very severe cyclonic storm is quickly strengthening in the Bay of Bengal, threatening the region with violent winds, flooding, and landslides that could potentially affect hundreds of thousands of the world's most vulnerable people, said Clare Nullis, of the World Meteorological Organization (WMO).
The agency's regional specialized meteorological centre in New Delhi forecast that Mocha would move towards coastal Bangladesh and Myanmar. The storm would further intensify until landfall, between Cox's Bazar in Bangladesh and Kyaukpyu in Myanmar by midday Sunday.
Nearly one million Rohingya refugees in Cox's Bazar camps are preparing for the worst. In 2022, they escaped devastation from the Bay of Bengal cyclone Sitrang, which nonetheless killed 35 people, displaced over 20,000, and caused over $35 million in damages in other parts of the country.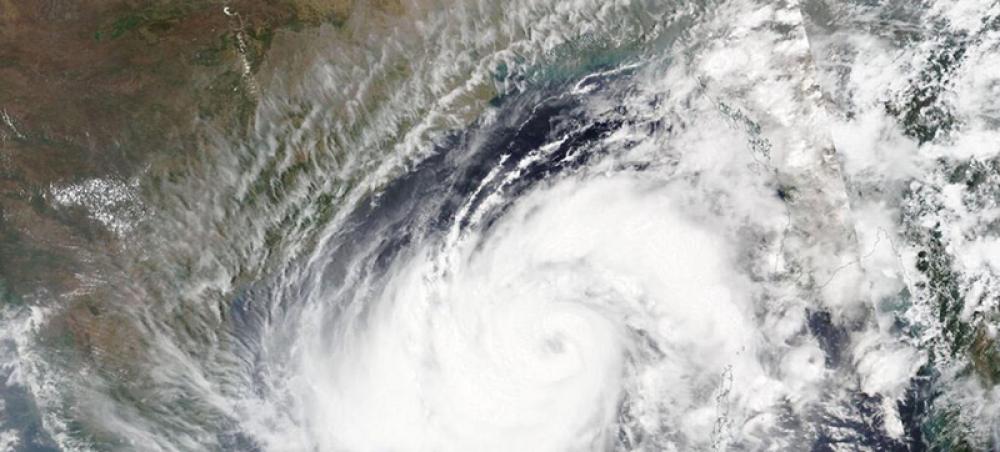 Volunteers on standby
Right now, Cyclone Mocha is headed straight for the camps in Bangladesh, according to the International Organization for Migration (IOM).
Speaking from Cox's Bazar, the agency's deputy chief of mission, Nihan Erdogan, said Bangladesh has a "massive" preparedness plan in place, of which IOM is a partner.
"We have trained 100 refugee volunteers in each camp on cyclone preparedness and the flag warning system in 17 IOM-managed camps," she said. "Emergency shelter materials and hygiene kits are readily available, and personal protective gear has been provided to all volunteers".
"We have to alert and assist our fellow community members so they are prepared to respond and protect themselves and others should the weather conditions worsen when the cyclone reaches our camps," said one of the refugee volunteers, who are disseminating awareness-raising messages and responding to community requests around the clock.
Meanwhile, the World Health Organization (WHO) has at the ready 40 ambulances and 33 mobile medical teams on standby at Cox's Bazar, agency's spokesperson Margaret Harris said.
The UN refugee agency (UNHCR) has prepositioned some 230 tons of dry food and 24.5 tons of fortified biscuits, as aid agencies stand ready to provide 50,000 daily hot meals, if needed, said Olga Sarrado, spokesperson for the UN refugee agency (UNHCR).
"We fear the impact of the storm with significant rainfall with landslides and flooding of camps near the sea," she said. "Access to the camps may be impeded, while power supplies and mobile phone towers might be damaged."
The agency is carrying out emergency preparedness in the refugee camps in Cox's Bazar and on the island of Bhasan Char, working with local authorities and its humanitarian partners.
Ready, in case of need, are such shelter materials as tarpaulin, rope, and floor mats along with 11 million aqua tabs, 60,000 jerrycans, and 300,000 soaps. Some 50 to 100 patients are being relocated to a hospital in Cox's Bazar, while most other patients have been sent home.
The agency is also working with the Bhasan Char authorities to ensure humanitarian partners and sectors remain alert and that refugees are kept informed. With more than 1,000 volunteers, six medical teams, and two ambulances on standby, preparations include 53 cyclone shelters and food provisions for the 30,000 Rohingya refugees living on the island, for 15 days.
Prevention in Myanmar
Jens Laerke, of the UN humanitarian agency (OCHA), said local communities in Myanmar were urgently preparing for the cyclone's arrival. Myanmar's humanitarian emergency response preparedness plan had been activated nationwide earlier this week, he said.
Humanitarian organizations, especially in Rakhine, had pre-positioned personnel and supplies wherever possible. Across Rakhine and the northwest, six million people need humanitarian assistance, and 1.2 million people are displaced, he said.
OCHA is working to ensure that responders would have timely and unimpeded access to those in need, he said, cautioning that the $764 million UN humanitarian response plan for Myanmar was only 10 per cent funded.
In addition, 500,000 inter-agency emergency health kits and 500,000 water purification tablets had been mobilized to Myanmar's Ministry of Health Central Medical Storage Department, WHO said.
Reducing disaster risks
Extreme weather hazards will occur more frequently due to climate change in the years ahead, IOM warned.
"The linkages between climate change, migration, and displacement are increasingly pressing worldwide," the agency said, calling on governments to implement sustainable climate adaptation, preparedness, and disaster risk reduction measures to avert, mitigate, and address displacement linked to climate disasters and strengthen people's resilience.