Environment/Science
Environment/Science
NASA says Tonga volcano eruption was 'hundreds of times' more powerful than Hiroshima atomic bomb
Just Earth News | @justearthnews | 25 Jan 2022, 01:17 pm Print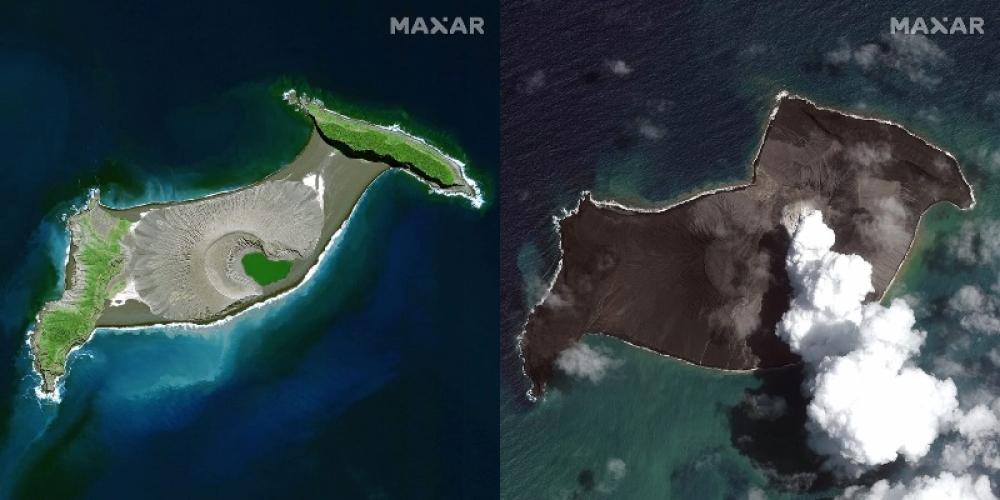 Tonga Volcanic Eruption
Image: Maxar Technologies on Instagram (@maxartechnologies)
Washington, D.C. (JEN): The underwater volcanic eruption near the Pacific island nation of Tonga that triggered a tsunami this month was 'hundreds of times' more powerful than the Hiroshima atomic bomb, according to NASA's Earth Observatory.
Referring to one of two atomic bombs dropped by the United States on Japan during World War II, the chief scientist at NASA's Goddard Space Flight Center, Jim Garvin, said the eruption of the Hunga-Tonga-Hunga-Ha'apai volcano on January 15 released "hundreds of times the equivalent mechanical energy of the Hiroshima nuclear explosion."
"This is a preliminary estimate, but we think the amount of energy released by the eruption was equivalent to somewhere between 4 to 18 megatons of TNT (Trinitrotoluene)," said Jim Garvin on NASA's Earth Observatory website.
"That number is based on how much was removed, how resistant the rock was, and how high the eruption cloud was blown into the atmosphere at a range of velocities," the NASA scientist said.
In comparison, NASA scientists estimate Mount St. Helens exploded in 1980 with 24 megatons of energy, and the 1883 eruption of Krakatoa — one of the biggest volcanic events in the world — released 200 megatons of energy.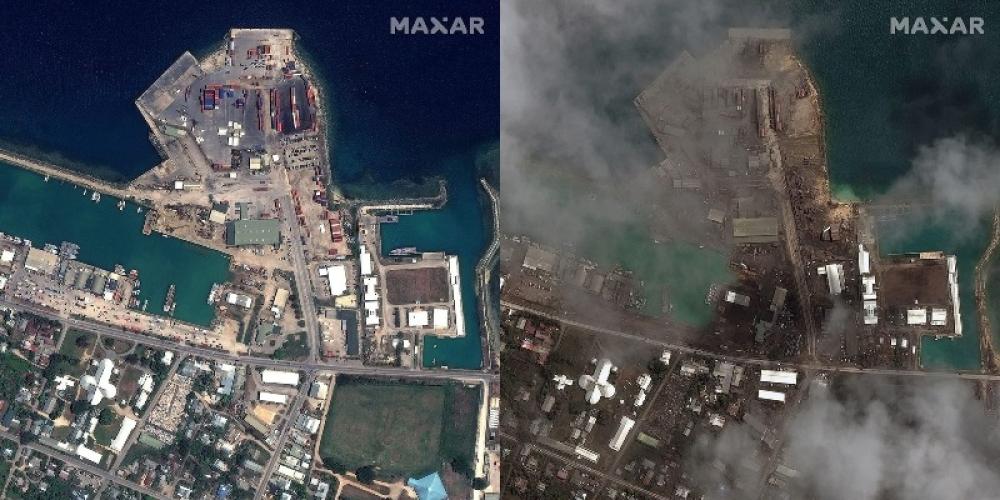 Image: Maxar Technologies on Instagram (@maxartechnologies)
In mid-January, a number of homes and communities were destroyed in the islands of Tonga by the volcanic eruption and tsunami, which has been described as an "unprecedented disaster" by the Tongan government.
Like other island nations in the Pacific region, Tonga, a Polynesian kingdom of more than 170 South Pacific islands, is regularly exposed to the extremes of nature, whether it be cyclones or earthquakes, but such huge twin disasters were 'never seen before' in the region.