Geopolitics
Governance/Geopolitics
Doha: UN conference ends with call for action on crime prevention
20 Apr 2015, 03:44 pm Print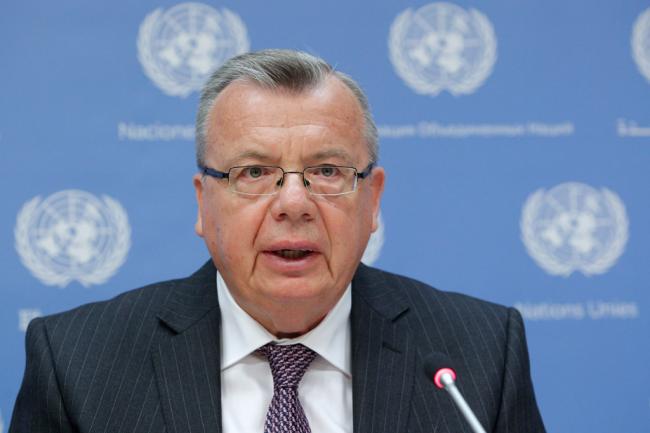 New York, Apr 20 (JEN): As the 13th United Nations Congress on Crime Prevention and Criminal Justice ground down to a close on Sunday in Doha, Qatar, the head of the UN Office on Drugs and Crime (UNODC) called on Member States to implement the Doha Declaration and take definitive action on comprehensive crime prevention and criminal justice policies and strategies.
"The challenge we all face now is turning this declaration into action," said UNODC Executive Director, Yury Fedotov, in his remarks at the closing session of the UN Crime Congress.
He added, "I am encouraged by the determination of our hosts to make Doha the point of departure and look forward to working with them, and other partners, on translating the inspirational words of the declaration into concrete, tangible results."
The 'Doha Declaration,' a political document unanimously adopted by delegates at the opening of the Congress on Sunday 12 April, puts an emphasis on important aspects of fighting transnational organized crime and strengthening criminal justice systems and crime prevention.
In addition, it contains recommendations which will be submitted to the next session of the UN Commission on Crime Prevention and Criminal Justice, to be held in Vienna from
18 to 22 May.
In his remarks, Fedotov hailed the declaration as an "empowering political statement" which, he said, recognizes the importance of strengthening crime prevention and criminal justice systems around the world.
"It is founded on fairness, justice and humanity, and driven by the need to be accessible and responsive to the rights of all individuals" he continued, adding that the document "stresses the commitment and political will of Member States on implementing comprehensive crime prevention and criminal justice policies and strategies, which promote the rule of law at the national and international levels."
Turning to
on Sunday's
migrant tragedy in the Mediterranean Sea in which some 700 lives are feared lost, Fedotov said there can be no better example of what the Crime Congress stands for than mobilizing to implement the Doha Declaration "on behalf of the victims of crime, including migrants, and that we track down the smugglers who feed off desperation."
As a result, he called on all countries, inter-governmental organizations and civil society to work together in a spirit of cooperation "to end these senseless deaths."
By adhering to the 13-page Declaration, Doha participants committed themselves to holistic and comprehensive approaches to countering all forms of crime, violence, corruption and terrorism.
They further committed themselves to a number of specific actions, including the adoption of comprehensive and inclusive national crime prevention and criminal justice policies and programs.
Also, ensuring the right of everyone to a fair trial without undue delay; reviewing and reforming legal aid policies; mainstreaming a gender perspective and youth-related concerns into criminal justice efforts; and countering corruption and enhancing transparency in public administration.

Photo: UN Photo/JC McIlwaine (file)