India: Doctors take US healthcare technology to villages
SPAN/Just Earth News 30 Sep 2013 Print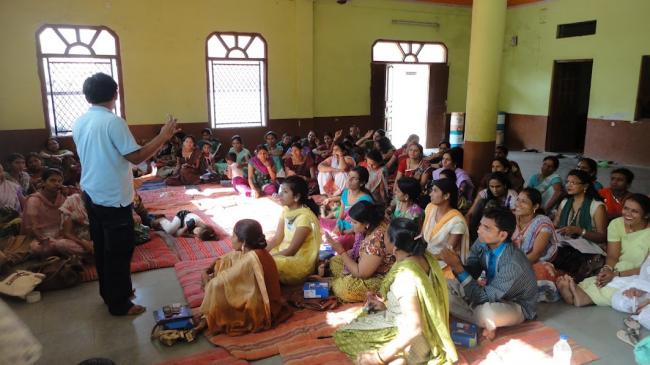 Technology developed in the US for improvement in healthcare is now being used in rural India. SPAN writer Steve Fox reports
You are young, brilliant, well-educated, technologically-hip and deeply aware that billions of people around the world suffer from ill health linked to poverty. What should you do with your life?
If you are the founders and employees of Dimagi, a software consultancy headquartered in Cambridge, Massachusetts in the US, you utilise innovative technology to improve the health and quality of life for some of those people. Noting that life expectancy in the United States is about twice that of poor nations, Vikram Sheel Kumar, co-founder and chief medical officer of Dimagi, puts it this way: "We live two lives for every one life in many developing countries. At Dimagi, we've chosen to live our first life giving back."
One place where Dimagi, a Hindi word that translates roughly as "smart," is giving back is India, where the firm's innovative CommCare software is widely used within the Accredited Social Health Activist (ASHA) program. CommCare, which Dimagi created as an open-source program—meaning other organizations can freely access it—helps community health workers deliver patient care in villages using the Internet and mobile phones, a concept known as m-health.
With CommCare, which utilises multimedia to engage villagers, ASHAs can collect and track patient information, manage individual cases over time, and demonstrate appropriate health care practices with audio and video clips. Already used to help treat a variety of health issues such as maternal health, malaria, TB, AIDS and malnutrition, CommCare will now be expanded across India under a grant from the United States Agency for International Development (USAID).
More than 750,000 ASHAs have been trained and sent into the field under India's National Rural Health Mission, which has largely achieved its objective of deploying "one ASHA for every village." But challenges remain, which is where Dimagi and CommCare come in.
"India has very unique challenges,". Kumar says. "On one hand, India has one of the best community health networks in the world, with mandated health care workers...who touch every village. So the policy is way out in front. The problem is more in the execution, because the health workers are not always trained as well as they might be, so they may not know what to do, and supervision in the field is difficult. At Dimagi, we look at that and say, 'Technology could have a very strong role in making this better.' "
Dimagi has partnered with nongovernmental organisations, public health organisations, research institutions and governments in 28 countries. In India, CommCare is being used by 15 partners operating in nine states. The private firm is structured as what is called a "benefit corporation," meaning that it puts social goals ahead of profits, and says its mission "is to integrate innovative technology into global public and private services in order to improve human health and wellbeing."
"We're not willing to settle for giving up what's important and interesting just for monetary rewards, and after a point there's not much that you really need. I ride a bicycle. We all take small salaries," Kumar says.
Although Dimagi will remain focused on the developing world, Kumar notes that m-health is really a global imperative.
"No country in the world has enough skilled health care professionals for the future, so every country has to figure out ways to move away from relying on overworked, constrained physicians," he says.
(Steve Fox is a California based freelance writer )