Environment/Science
Environment/Science
Extreme weather grips US, nine deaths reported
Just Earth News | @justearthnews | 31 Jan 2019 Print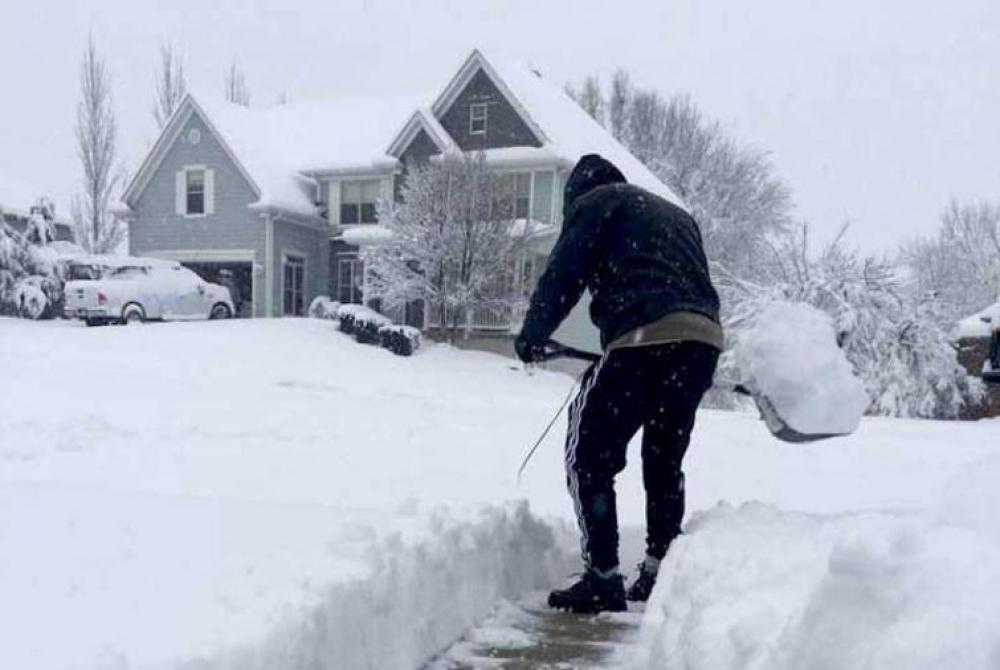 Washington, Jan 31: At least nine weather-related deaths have been reported from the US so far as the continent is experiencing extreme cold conditions for the past several days.
Officials said temperatures were below the freezing mark in 85 percent of the country, excluding Alaska and Hawaii, reported Voice of America.
A low temperature of about minus 23 degrees Fahrenheit was recorded from Chicago city in the US.
Minneapolis recorded minus 27 F (minus 32 C) as streets remained mostly deserted.
Authorities have declared a state of emergency in Midwestern Wisconsin, Michigan, Illinois, Alabama and Mississippi, reports said.
"This could possibly be history-making," Ricky Castro, a National Weather Service (NWS) meteorologist in Illinois, told BBC.
As per the BBC report, the NWS is warning frostbite is possible within just 10 minutes of being outside in such extreme temperatures.
The NWS website said: "An upper level low centered over the Great Lakes driving the blast of Arctic air from the Upper Midwest eastward into the Ohio Valley, Mid-Atlantic and Northeast will stay put through tomorrow. Wind chill values over the Upper Midwest will continue to be in the -40s through Thursday morning, with actual temperatures in the -20s to -30s.
"In the Northeast, temperatures will plummet to just below zero, and the Mid-Atlantic will see single digit temperatures. These apparent temperatures are creating life threatening conditions, as frostbite can occur quickly and even hypothermia or death if precautions are not taken. Wind chill warnings and advisories are in effect through Thursday afternoon across all these regions."
In Chicago, several office employers directed their staff to remain in their homes to avoid extreme conditions.
Few passengers were seen traveling in trains and buses.
The VOA report said the hardiest commuters ventured out only after covering nearly every square inch of flesh to protect against the extreme chill, which froze ice crystals on eyelashes and eyebrows in minutes.
Doctors in Minneapolis told VOA they were treating cases of what they called fourth-degree frostbite, in which limbs are frostbitten down to the bone.
The U.S. Postal Service canceled mail service in several parts across 11 states on Wednesday due to the freezing weather.
Chicago's Metra commuter rail system:
In a rare sight, people in Chicago witnessed the tracks of the Metra commuter rail service on fire on Tuesday, making the event gain media attention since then.
In fact, the move was made so as to combat the trouble of ice-clogged switches.
Officials said Chicago's Metra commuter rail system uses a gas-fed system that runs adjacent to the rail to generate heat.
Fire is used to ensure proper heating and working of the switches.
Metra isn't literally setting the tracks ablaze, spokesman Michael Gillis told CNN. The flames actually come from gas-fed heaters that run alongside the rails and keep them warm. Metra also uses a tubular heating system and hot air blowers to heat up cold track.
"Anytime it's below freezing were using these," said Gillis, who said other rail systems in North America use similar systems.
Why US is facing such extreme weather?
Cities across US Midwest are witnessing a near shut down as the region is shivering due to a deadly cold snap known as a polar vortex.
A polar vortex is an upper level low-pressure area lying near the Earth's poles.
There are two polar vortices in the Earth's atmosphere, overlying the North and South Poles. Each polar vortex is a persistent, large-scale, low pressure zone that rotates counter-clockwise at the North Pole (called a cyclone), and clockwise at the South Pole, i.e. both polar vortices rotate eastward around the poles.
The bases of the two polar vortexes are located in the middle and upper troposphere and extend into the stratosphere. Beneath that lies a large mass of cold, dense arctic air.