London: The United Kingdom's domestic counter-intelligence and security agency, The Security service, MI5, has warned that an alleged Chinese agent has infiltrated Parliament to interfere in UK politics.
An alert from the security service said Christine Ching Kui Lee "established links" for the Chinese Communist Party (CCP) with current and aspiring MPs, reports BBC.
She then gave donations to politicians, with funding coming from foreign nationals in China and Hong Kong.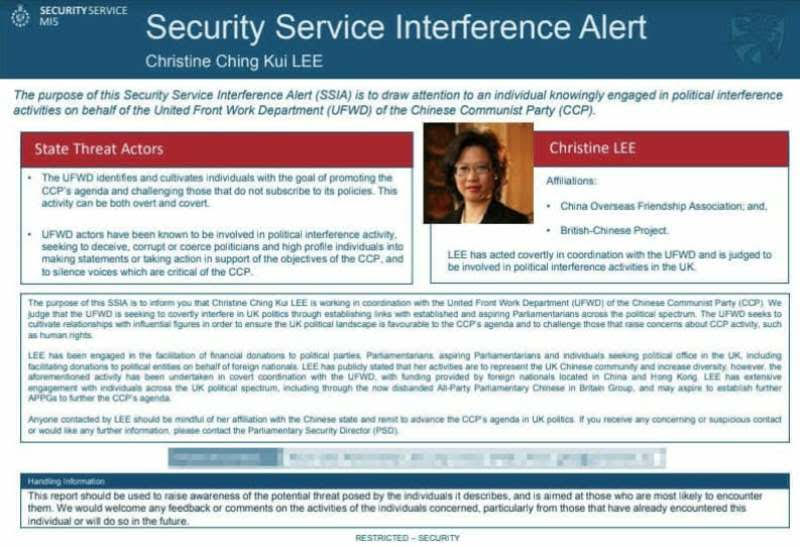 It comes after a "significant, long-running" investigation by MI5, Whitehall sources told the BBC.
One of the MPs funded by Lee was Labour's Barry Gardiner, who received over £420,000 from her in five years - but he said he had always made the security services aware of the donations, reports BBC.
Liberal Democrat leader Sir Ed Davey also received a £5,000 donation when he was energy secretary - but he said the money was accepted by his local association and it was "the first time he has been given cause to be concerned", the British media reported.
Home Secretary Priti Patel reacted to the episode and described it as 'deeply concerning'.
"I know it will be deeply concerning to many that an individual who has knowingly engaged in political interference activities on behalf of the Chinese Communist Party has targeted parliamentarians," she tweeted.
She said: "Where necessary, proportionate action is always taken to mitigate these threats, thanks to our world-leading intelligence and security agencies."
"Forthcoming measures to counter these kinds of threats will build on the robust safeguards already in place, making our country even harder for states to conduct hostile activity in," she said.