India's defence chief, his wife among 13 killed in air force helicopter crash
Just Earth News | @justearthnews | 08 Dec 2021, 03:06 pm Print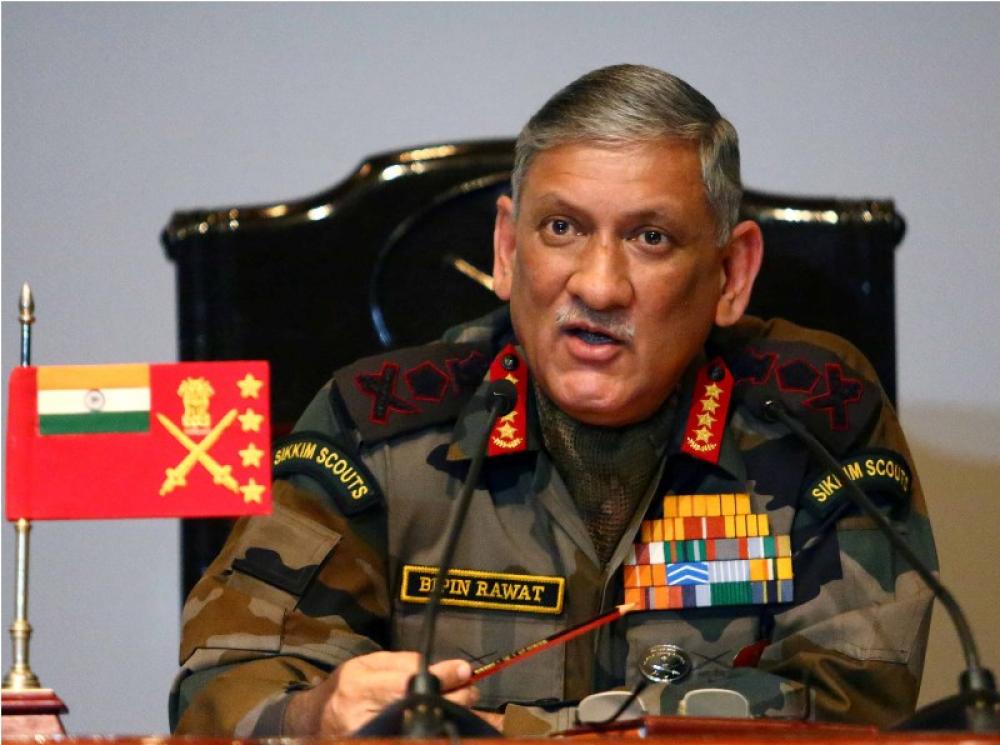 Indian Defence Crash
File photo of Bipin Rawat by Indian Press Information Bureau (PIB) via Wikimedia Creative Commons
Chennai, India (JEN): India's top defence official, his wife and 11 others have been killed after a military helicopter they were travelling crashed in the southern state of Tamil Nadu on Wednesday afternoon, the Indian Air Force (IAF) confirmed.
The IAF said in a brief statement that General Bipin Rawat, India's first and current Chief of Defence Staff (CDS) — the military head and chairman of the Joint Chiefs of Staff Committee of the Indian Armed Forces — and his wife, Madhulika Rawat, had been killed in the "tragic" chopper crash.
The IAF said 11 others, including four of the five crew members of the Mi-series chopper, have died in the incident while pilot of the helicopter, Group Captain Varun Singh who is the lone survivor of the fatal crash, is undergoing treatment at a military hospital.
Indian Prime Minister Narendra Modi said he was "anguished" by the helicopter crash in Tamil Nadu in which the country's CDS and 12 others lost their lives.
"General Bipin Rawat was an outstanding soldier. A true patriot, he greatly contributed to modernising our armed forces and security apparatus. His insights and perspectives on strategic matters were exceptional. His passing away has saddened me deeply," Modi tweeted.
Wreckage of the IAF helicopter that crashed in southern India with CDS Bipin Rawat and 13 others on board. Photo: Special arrangement
Condoling the deaths of the top military official and others in the chopper crash, India's President Ram Nath Kovind wrote on Twitter: "I am shocked and anguished over the untimely demise of Gen. Bipin Rawat and his wife. The nation has lost one of its bravest sons. His four decades of selfless service to the motherland was marked by exceptional gallantry and heroism."
"It's deeply painful for me to learn of the loss of lives in the chopper crash. I join the fellow citizens in paying tributes to each of those who died while performing their duty. My heartfelt condolences to the bereaved families," the President tweeted.
Earlier in the afternoon, an IAF Mi-17V5 copter with 14 passengers and crew members including CDS Bipin Rawan and his wife on board crashed near Coonoor in the hilly Nilgiris district of Tamil Nadu.
An eye witness on the ground recalled hearing a loud sound from the helicopter and watching the helicopter fall from the sky, hit a tree and then the ground, and burst into flames.
The IAF, which has already ordered an inquiry to "ascertain the cause of the crash", said the top military chief was on a visit to the Defence Services Staff College (DSSC) in Wellington in Nilgiri hills to address the faculty and student officers of the Staff Course.