Geopolitics
Governance/Geopolitics
Iraq: UNESCO chief condemns ISIL's cultural cleansing
28 Feb 2015, 03:56 pm Print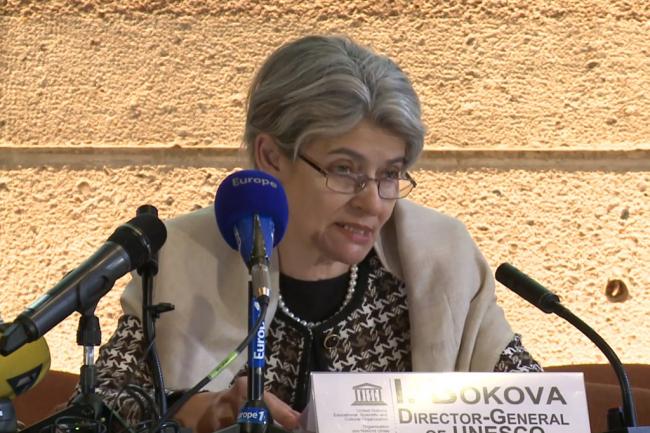 New York, Feb 28 (JEN): The head of the United Nations agency mandated to protect heritage sites has reiterated her dismay at the "destructive fury" exhibited by militants of the Islamic State of Iraq and the Levant (ISIL) in their recent assault on the Mosul Museum.
Briefing journalists at a press conference earlier this morning, UN Educational, Scientific and Cultural Organization (UNESCO) Director-General, Irina Bokova, condemned the devastation of artefacts and bas-reliefs, including large statues from the UNESCO world Heritage site of Hatra, by ISIL.

"This tragedy is far from just a cultural issue: it's an issue of major security," she declared.
She added, "We see clearly how terrorists use the destruction of heritage in their strategy to destabilize and manipulate populations so that they can assure their own domination."

Bokova, who has urged Secretary-General Ban Ki-moon and the UN Security Council to meet on ISIL's rampant destruction of cultural heritage, said she was encouraged by "the strong international mobilization" against the group's actions and warned that the "deliberate destruction" of cultural heritage is a war crime according to the Rome statute of the International Criminal Court (ICC).
She added that she had already contacted ICC prosecutor Fatou Bensouda "to attract her attention to the attacks on the Mosul Museum and encourage her to open a case."

ISIL extremists have reportedly engaged in "cultural cleansing" across Iraq and other territories occupied by the group, including the destruction of religious heritage belonging to Muslim, Christian and Jewish sects alike. At the same time, they also participate in the illicit traffic of artefacts in order to help fund their terrorist acts.

At the press conference, the Director-General also confirmed that UNESCO is preparing to launch a coalition of partners to stop the illegal trade of cultural heritage with its first meeting to be held at the agency's headquarters in Paris, France.

"I can announce today that UNESCO is going to launch a coalition against the illicit traffic cultural artefacts," she continued.

"We are going to organize, here at our headquarters, within the next few weeks a first meeting with our key partners to assure the implementation of this resolution," she said referring to a UN Security Councilmeasure unanimously adopted two weeks ago, which urged global cooperation in targeting sources of funding for ISIL and Al-Nusrah Front (ANF), and condemned those buying oil from the groups, banned all trade in looted antiquities from Iraq and Syria, and called on States to end ransom payments.

The resolution, which called on UNESCO, Interpol, and other international organizations to assist in such efforts, was at the time welcomed by Bokova as a "milestone for enhanced protection of cultural heritage in Iraq and Syria."

Photo: UNESCO video capture