Globsyn Business School hosts fair for underprivileged children
Just Earth News 29 Feb 2016 Print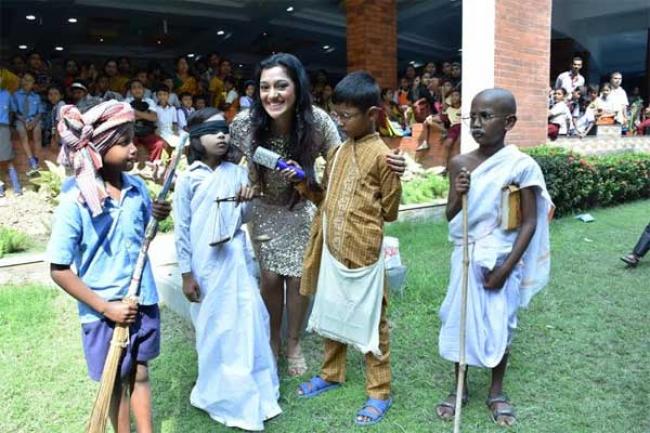 (Reporting by Adit Majumder, Images by Subhodeep Sardar/IBNS)
Kolkata, Feb 28 (IBNS): Kalyani, a Bikram Dasgupta Foundtion, on Saturday organised the Kalyani Ananda Utsab, a fair for underprivileged children at the Globsyn Knowledge Campus in West Bengal's Bishnupur in South 24 Parganas.
Tollywood actress Moubani Sorcar was present on the occasion which witnessed the participation of about 450 children along with their parents and teachers from 17 different schools in an around Amtala area near the campus.
The participants between the age group of 6 and 14 years were shortlisted from 850 applicants from semi urban areas to exhibit their talents in different fields.

"Bikram Dasgupta Foundation has always tried to present a focus effort to change the way in which the society looks at the underprivileged children's, elderly peoples. After a point of time people are least bothered about their needs and wants, the Bikram Dasgupta Foundation is dedicated to take the charge of their parenthood, which is like a blessing," said Moubani Sorcar who was also a judge for the fancy dress competition.

Talking about her association with the Bikram Dasgupta Foundation, she said: "I consider myself privileged enough to be blessed with such good parents, it is very heart wrenching to think about a child who faces difficulties in facing the world because of their backgrounds. I feel such people are our responsibility, the foundation has taken up a very big responsibility to bring in these children's and entertain them in every possible way."

Like every year this year too the Globsyn Business School is the volunteering partner of the Kalyani Ananda Utsab 2016 with the theme 'Invention & Inventors'.
The event had sit and draw competition, fancy dress competition, puppet shows and many more exciting game shows for the children as well as their parents and teachers .

Ranjana Dasgupta, Managing Trustee, Kalyani- Bikram Dasgupta Foundation, said: "We have been organising this for the last four years. Our thinking behind this whole concept is to give an opportunity to the school children of semi-urban areas a platform to showcase their talents which they barely get in their localities or schools."
"The whole year our foundation is taking up such initiatives, the students of Globsyn Business School, our volunteering partner visit different old age homes in Kolkata and they put up different kinds of shows to make them feel happy," she said.

Kalyani, a Bikram Dasgupta Foundation ia a not-for-profit foundation with the credo of "touching Human Lives," dedicated to create a more equitable social fabric by taking care of the needy sections of the society. Bikram Dasgupta, the founder is an IT entrepreneur by profession and has named the foundation after his mother.