Soha Ali, Rituparna walk for street children charity
14 Jun 2015 Print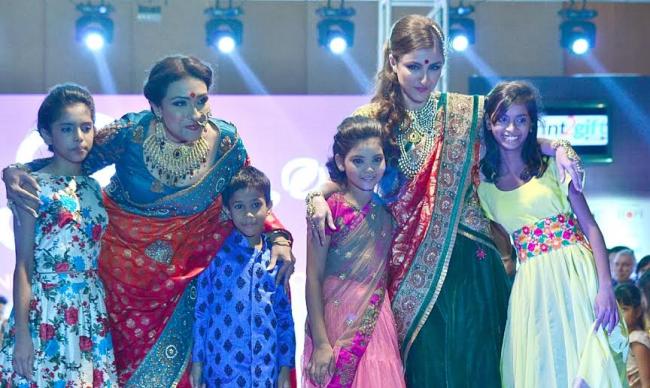 Kolkata, June 14 (JEN): As Bollywood star Soha Ali Khan joined the Kolkata celebrity brigade to sashay down the ramp in chunky jewellery and gorgeous traditional Indian outfits like saree on a rain-drenched summer evening on Saturday, behind the show of razzle-dazzle was a cause for charity.
'SEEDZ: An Initiation for a better tomorrow' was a charity fashion show at Novotel, where celebrities from all fields walked the ramp hand-in-hand with the street children of HOPE Kolkata Foundation.
The evening saw more than 48 celebrities and socialites from Bollywood, Tellywood and Tollywood walking to support the cause.

The showstoppers of this event were Soha Ali Khan and Rituparna Sengupta.
The evening was divided into two segments: the first consisting of a fashion show 'HERITAGE OF KOLKATA' which was followed by a performance by MAYOOKH, consisting of Mayookh Bhaumik on the tabla and Ishita Chakravarty on vocals.
The second segment of, the fashion show was titled 'PORIBORTON- The Change Fashion Show' which was followed by a dance performance by actors Aksshat Raj Saluja and Abhishek Avasthi.

The celebrities who walked the ramp varied from Tollywood actor Abir Chatterjee to singer Kartik Das Baul, fashion designer Agnimitra Paul and astrologer Mahesh Jalan to British deputy High Commissioner Scott Furssedonn Wood and his wife, as well as Manabi Bondopadhayay, India's first transgender college principal.
"The HOPE Foundation supports the Right to Education of all Indian children. Today's event provides a platform for our younger generation. Let them be the change they want in our world," said Geeta Venkadakrishnan, Director of HOPE Kolkata Foundation.

HOPE Foundation is a non-sectarian organization founded in 1991. It works to bring about change in the lives of children, young people, and vulnerable individuals.

This event was organized as a fundraiser where the proceeds would be utilized for those children who are not privileged with bare minimum necessities, and education.

"The role of celebrities in terms of encouraging people to come forward, played a very crucial role for this event", said Dalia Mukherjee, who conceptualized this event.

Jai Kishan, GM of Novotel said, "It was a real pleasure sharing the platform with these wonderful children this evening. "

(Reporting by Shubholaxmi Roy)